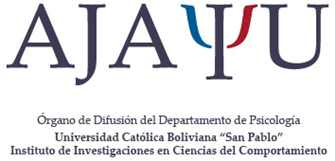 Search
Publication of
Universidad Cátolica Boliviana "San Pablo"

On-line version ISSN 2077-2161
Mission
The electronic journal Ajayu (RAP) is published by the Department of Psychology at the Catholic University Boliviana "St. Paul". Its mission is to spread scientific knowledge of psychology Boliviana. This is mainly to provide research information to enable the empirical approach solving urgent social problems.