Servicios Personalizados
Articulo
Indicadores
Links relacionados
Similares en SciELO
Compartir
---
versión impresa ISSN 2225-8787
Rev. Cien. Tec. In. vol.16 no.17 Chuquisaca jun. 2018
Artículo
Pollen morphology of four species of salvia genus (lamiaceae) in periurban areas of Sucre, Bolivia
Metodolia del polende cuatro especies del género Salvia (Lamiacea) en áreas perihurbanas
SARA VIA - Alexandria 1* & PINTO - Carlos2
1 Museo de Historia Natural Noel Kempff Mercado, Universidad Autónoma Gabriel René Moreno, Casilla 2489, Santa Cruz Bolivia
2 Universidad Mayor Real y Pontificia de San Francisco Xavier de Chuquisaca, Casilla 212, Sucre- Bolivia
Recepción: Julio 10, 2018 Aceptación: Diciembre 04, 2017
---
Resumen
Granos de polen de 4 especies del género Salvia fueron colectados y descritos en relación a su morfología. Se distinguieron dos frupos de acuerdo a diferencis en tamaño y forma, principalmente en el ancho del colpo y el espesor de la exina. Las especies con polen más grande (S. haenkei y S. Orbignae) son consideradas arbustos bajos, mientras sque S. personata y S. stachydifolia corresponden a especies herbáceas. Estas características son tomadas en cuenta comos rasgos tazonómicos importantes (e.g. la escultura de la exina), de esta manera, esta investigación incrementa el conocimiento acerca de este grupo de plantas.
Palabras Clave
Salvia, Lamiaceae, Sucre, Palynology
---
Abstract
Pollen grains of four species of Salvia genus were collected and described in relation with their morphology. Two groups were distinguished according to size and shape differences, principally in the width of the colpo and thickness of the exine. The bigger pollen species (S. haenkei and S. Orbignae) are considered as undershrubs meanwhile S. personata and S. stachydifolia corresponds to herbaceous species. These characteristics are considered as important taxonomic traits (e.g. the sculpture of the exine), in this way, this research increase the knowledge about this important group of plants.
Keywords
Salvia, Lamiaceae, Sucre, Palynology
---
Introduction
Displacement and decline of biodiversity are related with factors such as anthropogenic changes (e.g. landscape modifi cation, urbanizations), these changes can affect directly populations of plants and also the organisms depening on them (Walker et al. 2017; Uchida et al. 2018). This can be the case of some species of Salvia genus, were little research is done in this group, but it becomes important since certain specific assemblages of pollinators such as native bees and hummingbirds are the main visitors of these species (Gürcan et el. 2016). Salvia is a genus with about 1000 species, where Central and South America it represents around 500 spp, while western Asia and eastern Asia show 200 and 100 species approximately (Walker & Sytsma 2007; Kahraman et al 2009; Gürcan 2016). This genus has different centers of diverssity one of which lies in the Andes of South America, in Bolivia 28 Salvia species are recognized, most of them considered exlusive and native to the Andes (Wood 2007).
Species of this family showed large variation in floral morphology wich include traits like the presence of a lever mechanism for pollination resulting from a modification of the stamens (Claben et al. 2004; Wester & Claben 2005), at the same time, it presents a great diversity of growth forms and biology of pollination (Kahraman et al. 2009) as is the case of the four species of Salvia studied in this research.
Salvia haenkei (Benth) is a undershrub present in dry valleys, distributed in both sides of the cordillera of Andes, their inflorescence is usually long, sticky, showing terminal racemes with verticillasters with 2- 6 flowered, red corolla, anthers exserted, style strongly exserted and glabrous (Figure 1a) (Wood 2007).
Salvia orbignae (Benth) is also an undershrub endemic to Bolivia, inflorescence of very lax terminal racemes, verticillasters mostly with 2-4 flowered, pinkish/purple corolla, staments included, style weakly exsertes and pilose (Figure 1b) (Wood 2007).
Metodology
The study was conducted in periurban zones of Sucre city, where populations of the four Salvia species were located in ruderal hábitats: in the South of the city, ''La Calancha'' zone is situated at (19°04'34.02"S- 65°16'13.03"O) for S.orbignae; in the North ''Lajas Tambo'' zone (19°0'23.40"S- 65°18'20.22"O) for S. stachydifolia. And S. personata and the last zone corresponds to a population of S. Haenkei in the"Circunvalación"(19°2'6.16"S- 65°16'11.52 O) zone. The altitude for all populations is between 2689 and 2936 m.a.s.l.
Sampling was carried out between April to May of 2017 where 5 individuals of each Salvia species were selected randomly and floral buttons enclosed in tulle bags until they bloom, after this point, flowers of each individual were colected in paper envelopes, to be later dried in laboratory. Pollen of each sample was acetolyzed according to Erdtman (1986). For pollen description grains slides were prepared, the observati on was made using a Olympus SZ61 binocular light microscope with Olympus MD90 camera. The polar length, equatorial leght, colpus length, colpus width, exine and intine thickness for 30 pollen grain per species was measured under light microscope with X100 and x40 for polar observation, their exine ornamentation was described with the same procedure. At the same tima polar axis/ equatorial axis (P/E) ratios were calcualted. Pollen terminology of Colinvaux et al. 1990 and Ybert et al. 2012 was used for descriptions.
Results and discussions
Measurements of pollen grains are detailed in Table 1 and showed that two principal groups are present according to the size and shape of pollen: the largest species were S. haenkei and S.orbignae, who showed subprolate pollen grains with long colpus; on the other hand S. personata and S.stachy difolia showed very small subspheroidal pollen grains with short colpus. All the species were hexazonocolpate with differencens in the colpus width, being more narrow on those species with small pollen grains. Generally, the shape of exine is different on each species, but at the same time, the intine thickness remains similar along species. The sculpture of exines of these species is reticulate with one exception in the case of S.orbignae, showing a bireticulate structure (Figure 1a-d). Pollen grains from the undershrub species tend to be larger tan herb species, this pattern is similar in other genus of the Lamiaceae family (e.g. Elsholtzia)(Jang et al. 2010). These features present in pollen grains (e.g. type of aperture) in Lamiaceae, are considered as taxonomic traits for the subfamily (Cantino et al., 1992), where at the same time other specific characteristics such as exine sculpture pattern, are important to determine phylogenetic relationships (Özler et al. 2011).
Conclusion
Differences in morphological measurements, specially size, shape and apertures, in the pollen grains of this four species of Salvia can become useful for the distinction of species improving the knowledge about taxonomic criteria used in this group.
Acknowledgements
We are grateful to LANBIO (Latin American Network for Research on Bioactive Natural Compounds) and BOL-01 programs for the financial support to develop this research.
References
Claben B., T. Speck, E. Twester, P. Wester, S. Thimm, R. Reith. 2004. The estaminal lever mechanism in Salvia L. (Lamiaceae): a key innovation for adaptative radiation? Organisms, Development & Evolution. 4: 189-205. [ Links ]
Colinvaux P., P. De Oliveira, E. Moreno. 1990. Amazon Pollen Manual and Atlas/ Manual e Atlas Palinológico da Amazonia. Harwood Academic Publishers. Amsterdam, Netherlands. 413 pp. [ Links ]
Erdtman, G. 1986. Pollen morphology and plant taxonomy (an introduction to pollen analysis). E.J. Brill. Leiden, Netherlands. 426 pp. [ Links ]
Gürcan H., I. Potoglu, N. Öztürk. 2016. Anatomical and palynological studies of three Salvia L. species in and around Eskisehir, Turkey. Bangladesh Journal Botany. 45:269-275. Jang T.S., Y.C. Jeon, S.P.Hong. 2010. Systematic implication of pollen morphology in Elsholtzia (Elsholtzieae - Lamiaceae). Nordic Journal of Botany. 28: 746-755. [ Links ] [ Links ]
Kahraman A., F. Celep, M. Dogan. 2009. Comparative morphology, anatomy and palynology of two Salvia L. species (Lamiaceae) and their taxonomic implications. Bangladesh Journal Plant Taxon. 16: 73-82. [ Links ]
Özler H, S. Pehlivan , A. Kahraman, M. Doğan, F. Celep, B. Başer, A. Yavru, S. Bagherpour. 2011. Pollen morphology of the genus Salvia L. (Lamiaceae) in Turkey. Flora. 206: 316-327. [ Links ]
Walker J. B., K.J. Sytsma. 2007. Staminal evolution in the genus Salvia (Lamiaceae): Molecular phylogenetic evidence for multiple origins of the staminal lever. Annals of Botany. 100:365-391. [ Links ]
Uchida K., Fujimoto H., A. Ushimaru. 2018. Urbanization promotes the loss of seasonal dynamics in the semi-natural grasslands of an East Asian megacity. Basic and Applied Ecology. 29: 1-11. [ Links ]
Walker C.M., K.C.Flynn, G.S.Ovando-Montejo, E.A.Ellis, A.E.Frazier. 2017. Does demolition improve biodiversity? Linking urban green space and socieoeconomic characteristics to avian richness in a shrinkingcity. Urban Ecosystems. 20: 1191- 1202. [ Links ]
Wester P., R. Claben. 2005. Hummingbird pollination in Salvia haenkei (Lamiaceae) lacking the typical lever mechanism. Plant Systematics and evolution 257: 133- 147. [ Links ]
Wood J.R. 2007. The Salvias (Lamiaceae) of Bolivia. KewBulletin. 62:177-222. [ Links ]
Ybert J.P., M. Araujo, R. Scheel.2012. Diccionário temático de morfologia esporopolínica. Museo Nacional UFRJ. Rio de Janeiro, Brasil. 100 pp. [ Links ]
Figure 1. 1-16. photographs of pollen grains of four species of Salvia: (1-4) S. haenkei, (5-8) S. orbignae, (9-12) S. personata and S. stachydifolia. (1,5,9,19: flowering plant; 2, 6, 10, 14: polar perspective; 3,7,11,15: col pus width and equatorial view; 4,8,12,16: exine-intine thickness).
Anexos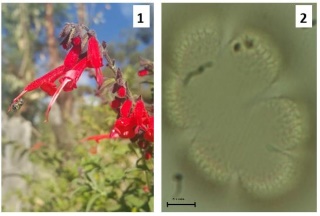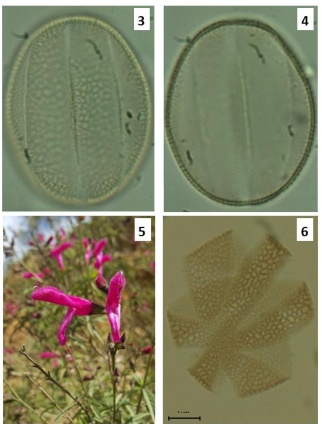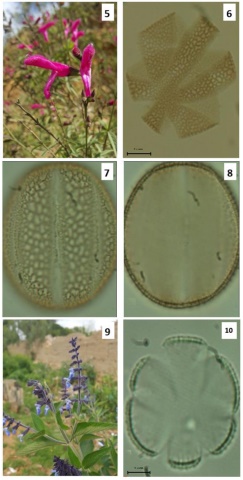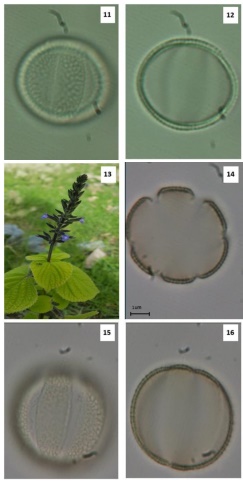 Table 1. Overview of palynological characters of four species of Salvia genus. Numbers refer to the average, maximum and minimum values for P (polar axis) size, E (equatorial diameter), P/E is a ratio of polar axis and equatorial diameter, CL is colpus length, CW is colpus width.